About us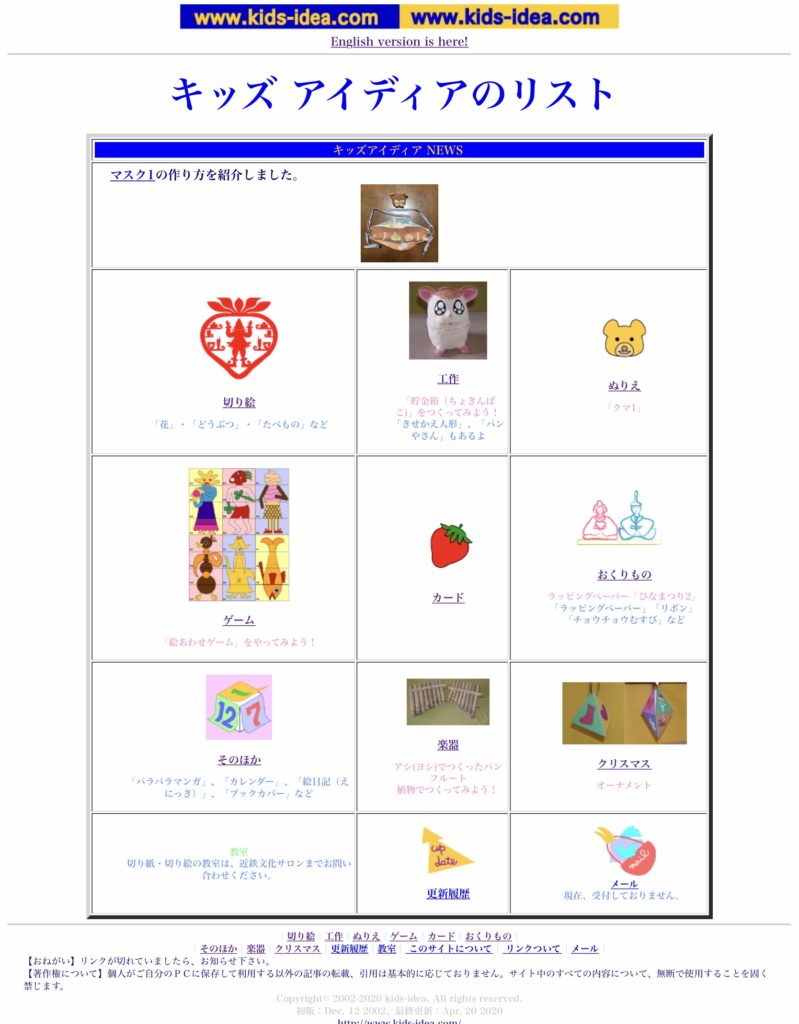 Our History and Future
Welcome to the official website of Kids Idea.
Kids Idea started online activities in 2002 to bring craft-based activities for parents and other adults that spend time with children. We aim to deliver fun and rewarding activities through our printable repository of paper crafts, including cut-out art, colors, games, paper, and paper dolls.
It is important for children going through their developmental phase to feel a sense of achievement and recognition from elders. Children enjoy craft making and can feel a sparkling joy of achievement upon completion. Guardians celebrate the growth of children through their accomplishments. To increase such outcomes, we continue posting ideas.
As we intend to support children and people involved with children globally through craft activities, from the very beginning of the site we have offered information in both Japanese and English. Now kids-idea.com is accessed from all over the world and is linked to by websites outside of Japan. kids-idea.com is listed by Open Directory Project (ODP) and is registered with major search sites around the world using ODP.
With a newly reborn website, we are broadening our themes not only with regards to child-friendly content, but also for craft lovers at large. The new kids-idea site holds to our original principles while also actively taking advantage of IT technology advances to virtually connect with craft-lovers all over the world in sharing the "Joy of Creation."
Our Principles
Kids Idea values "Joy of Creation" and "Fun of Sharing" principles.
We believe we can share happy crafting moments with people living in different countries with varying backgrounds. Kids Idea is here to support children and people involved with children all over the world in their "Joy of Creation" pursuits.
Kids Idea offers ideas and downloadable materials for craft projects. It is YOU who completes original works through the combination of materials, colors, and actions.
You can use your work in various ways — either for personal enjoyment or as a gift, for example. We are always here to provide passionate support to young creators and their supporters.
Popular items from Kids Idea old website
Cutting paper, Snowflakes
Paper Craft
Flip Books
Fukuwarai
Letter Writing Paper & Envelopes
Colorings
Piggy Banks
Milk Carton Instruments
Whistles
Book Covers